*All Credit Accepted
Get Your Loan then Get Your Car!
Pick Your Own Car
FREE and Easy Process
No Application Fees
No Credit, No Problem
No Obligation to Buy
At Freedom Auto Financing we help people with credit challenges everyday. Our process is free, fast and a vehicle is not required. Here is how our process works: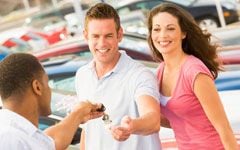 Fill out our quick secure SSL encrypted form
Get qualified by a local dealer or lender
Select your car
Drive away as soon as today!
Searching for a car loan online will save you time and money. Yes, if you're buying a new car, used car or leasing we got you covered.
"The lesson for consumers: Make absolutely certain to be pre-approved for a car loan before shopping for a car. Then, you have a better idea of what type of loan rate would apply to someone with your credit score, said Christopher Kukla, senior vice president for the Center for Responsible Lending".
SOURCE: USA Today/Money/Columnist 01/18/2014
It was good and simple to use.
I have had no problems yet
This site is amazing! Very helpful!